W H O , W H E N , W H A T & W H Y
WHO. My name is Nadja. I am a proud Aquarius, having a croatian heartbeat and and currently living in Paris (FR) and in Duesseldorf (GER). On a wonderful journey called life I am steadily thriving to reconnect with my inner self following my inner compass and aiming towards better health, greater self-consciousness and trust.
WHEN I traveled through Nepal in 2016, I learned that ancient cultures were living in harmony with nature and benefit from the power of quantum physics already more than 3.000 years ago. Ever since, I am passionate about unlocking our full human potential to expand life apart from our ego and our senses.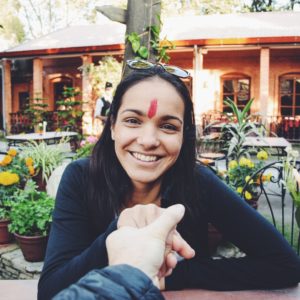 WHAT. In doing so I created a holistic healing concept fueled by a set of various techniques and approaches and tailored to every client. Within the scope of my work I developed the following qualifications and competencies: 
Studies in Physics (B.Sc.)
Yoga Teacher Training 200h 
Quantum Healing
Complementary and alternative medicine practice in training  
Shiatsu practition  
Nutritional consultation
WHY. I strongly believe that we all have the inherent ability to steer our lives consciously towards happiness, health and strength – both physically and mentally. A magnet can lift objects multiple times its own weight – however in a demagnetized state it won't even lift a feather weight. Ever since my studies in physics I am fascinated by the theory that everything – including our thoughts – represents a form of energy that can be converted or directed using our will power.
My purpose is supporting you on your personal journey towards healing, peace and happiness. More than that I want to empower you to break mental structures or thought patterns that block and hold you back from living a life to your fullest potential. You are a wonderful! Your are unique! And in every moment life offers you greatness and in invite set of possibilities. You just need to grab and act on them. I invite you to be the creator of your own life and thus, to walk your path towards unconditional freedom – day by day!